Are you throwing a party and you're having difficulty trying to get everything prepared for the event? Being a host to a huge gathering of people can certainly be stressful. You're responsible for arraigning a lot of activities while having to please a ton of people. The good news is that there are some parts of the party that can be taken care of by outside professionals. By hiring a catering company, you can guarantee you guests that the food will be excellent. Why is it worth paying for professionals to take care of the food? Consider these reasons:
Save a Lot of Time
If you're responsible for planning a party for a ton of guests, the amount of time to cook the food is staggering. You'll also have to buy all the items and plan the meals as well. If you're taking care of everything by yourself, it can be absolutely stressful and overwhelming. If you decide to hire a catering company, they'll take care of all the cooking and preparation. All you need to do is settle on a menu, a process which will take you a fraction of the time. They'll bring over all the food themselves, allowing you to focus on other important parts of the party. Stop being stuck in the kitchen and hire a company to cook the meals for you.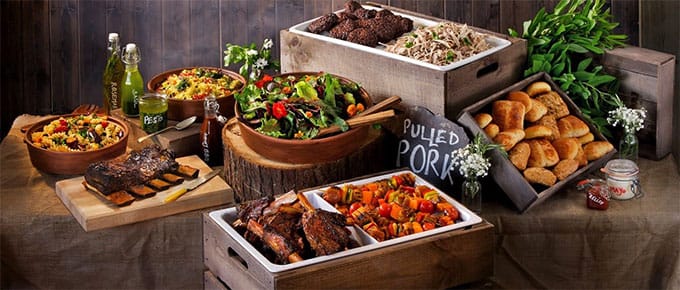 Guaranteed Good Food
If you're doing the cooking on your own, you also will need to worry about how the food tastes. If you're cooking for a huge group and you only have a short period of time, the quality can suffer. Instead of feeling judged by others for your poor cooking, why not hire a catering company to do the legwork? These companies hire trained culinary professionals who understand what it takes to prepare great food. The company will respect your monetary investment and will deliver you food for your party that will make the guests happy. Instead of being stressed about everything tasting great, hire a company that will take the weight off your shoulders.
Excellent Service
A good catering company knows that their food orders are time sensitive, so they are capable of delivering you your order on time. They also can take care of the serving of the food as well. If you don't want to spend your party handing out trays of food, hire a company to take care of the service. Again, these companies employ professionals who know how to entertain a crowd while providing great service. If you need people to serve drinks, you can ask the company to bring along a bartender as well. Their company will employ professionals who know how to properly serve drinks as well.
As you can see, a catering company is the right choice to enhance your social event. Stop trying to do everything by yourself. Hire trained people to come and transform your party into the event of the year. Your guests will be blown away by the high quality of food and service.